When it comes to global Human Resources Management (HRM) trends, it's obvious that some of them come, some stay, and few trends are permanent. Let's look at each of them and discover how to implement the most useful points in practice. 
Globalization of the HR sphere
Companies search for employees everywhere. With erasing business borders between countries in the modern world, businesses become open to hiring high-class remote specialists. This opens new horizons to people who are in search of a job, as they can earn more while working at home or wherever it is comfortable for them.
What does business do? First, companies closely cooperate with freelancers all across the world. As for full-time workers, it's no surprise that IT companies hire outsource specialists, for example, a company headquartered in Berlin may hire people from Kyiv. Regular online meetings are gradually replacing offline communication.
Millennials Are the Core of the IT sphere
It's not a secret that IT is the youngest industry. As for TOP tech companies such as Facebook, Google, and Apple, millennials (people aged from 20 to 33) make the main part of the workforce. Previously, experts studied the working audience of Stack Overflow (26K people from 157 countries), and found out that their age is distributed as follows:
24.5% – 20-24 years old.
28.5% – 24-29 years old. 
18% – 30-34 years old.
16.7% – 35-50 years old.
What does business do? Companies hire young and ambitious millennials. There is no other industry than IT where you'll find so many smart youngsters. On the contrary, team leads of developers rarely want to have elderly people in their teams. Still, this is not a problem for HRs and recruiters, as hundreds of developers graduate from universities annually. 
Just for your information, here's the 'age' situation at the largest IT companies: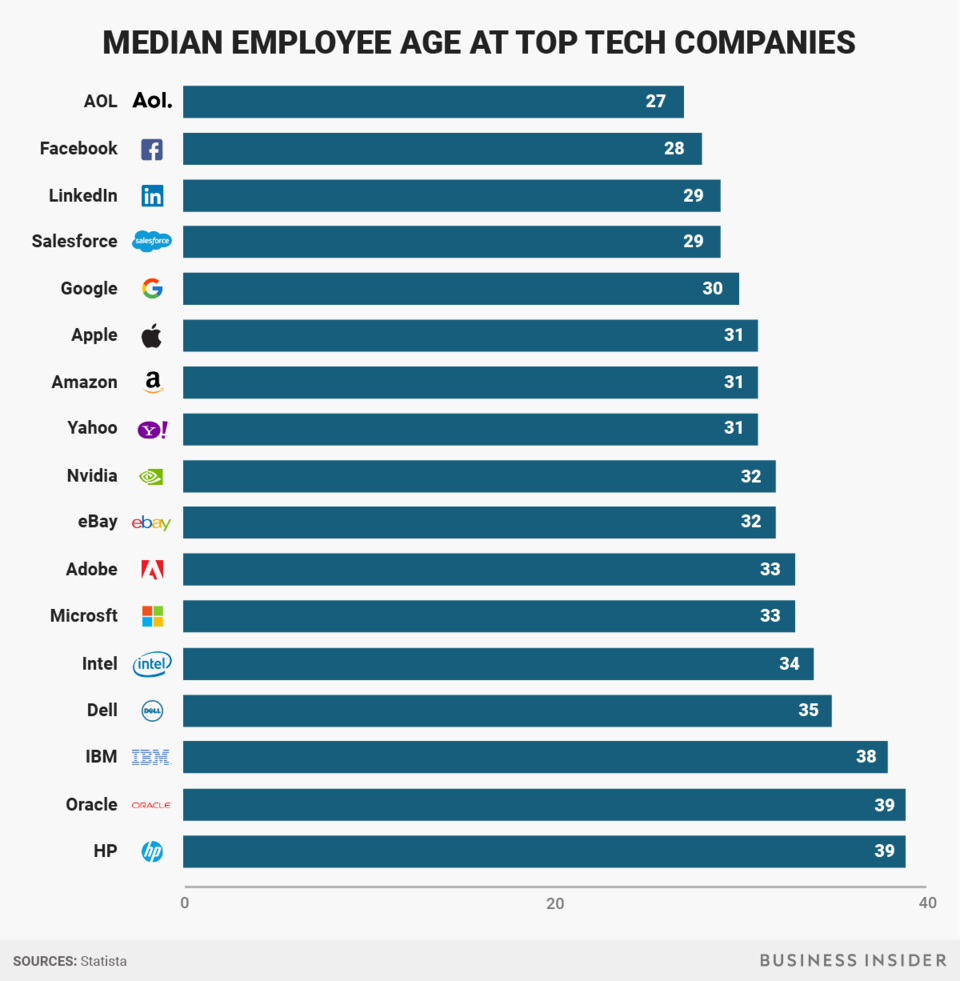 Personalization
HR experience becomes more personalized thanks to the human-centered approach. If earlier it was normal to pay attention only to the professional skills of candidates and staff, it's now crucial to create a comfortable environment for people to make them flourish. This point is somehow driven my millennials, as they dictate the companies' management style – these people require special personalized attitude, which makes a revolution in classic human resource management.Companies aim at engaging every employee in their activities, and this is not for no reason!According to statistics from Aberdeen's Employee Engagement research, employee engagement programs help companies enjoy a 26% greater annual increase in revenue.That's why businesses dedicate resources to motivate and develop every person involved in the working process.
What does business do?  From our experience, the majority of IT companies hire HR managers, and some of them hire a team of HRs and psychologists to make employees comfortable to achieve the highest goals. 
HR Is Joining Marketing
When considering the image of a brand and clear communication, everyone thinks of marketing first. In 2019, HR managers take care of creating a positive brand for companies. They do that from their perspective, letting candidates know that the company can be trusted.
HRs pay attention to employee experience with a company and build a communication strategy while answering the following questions:
– Does the company clearly communicate its goals, mission, and vision through different channels? Keep in mind that not only candidates will see your mission and plans – potential partners and clients will also find them on the Internet.
– Does the company have access to the necessary technology or develop own software for effective work? Note, that effectiveness is the key factor both for the company, the employee and the client.
– Does the company perform any social activities or any other activities aimed at the mutual growth and development of both parties? Does the company have a roadmap for the next 4-5 years? This makes people believe that they can trust the company and work for it or invest in it.
What does business do? Companies use every mean for creating a positive image and meet the audience's expectations. Business owners are often eager to be listed in 'Best employer' ratings, as this is attractive not only to employees but clients as well.
Next, they use SMM tools to engage people in the company's activities and communicate with potential clients and workers. As a communication channel, social media helps companies cope with negative and convey the sense of the business to a wider audience.
Also, there can be referral programs, when people get paid for useful recommendations. 
Final thoughts
As every industry of the 21st century, Human Resources Management now becomes more globalized, technological and focused on people.
So, which trend have you already implemented in your company and what will be next – hiring more remote workers, cooperating with millennials or taking joint actions with the Marketing team?